OUR COMMITMENT
EVER SINCE THE CRISTALINO LODGE WAS FIRST ESTABLISHED, CONSERVATION OF LOCAL BIODIVERSITY HAS BEEN ITS MAIN SOURCE OF INSPIRATION AND MOTIVATION.
Protecting the beautiful Cristalino river basin, preserving its biodiversity and promoting the sustainable use of the surrounding area is an integral part of the hotel's commitment. So, a non-governmental organization, the Cristalino Foundation, was established in 1999 to work in partnership with the Lodge in helping to conserve this vitally important Amazon region. The purpose of the Lodge is not only to provide a high standard of tourism, but for that tourism to contribute towards the conservation of the whole region, with direct and indirect benefits for the local communities.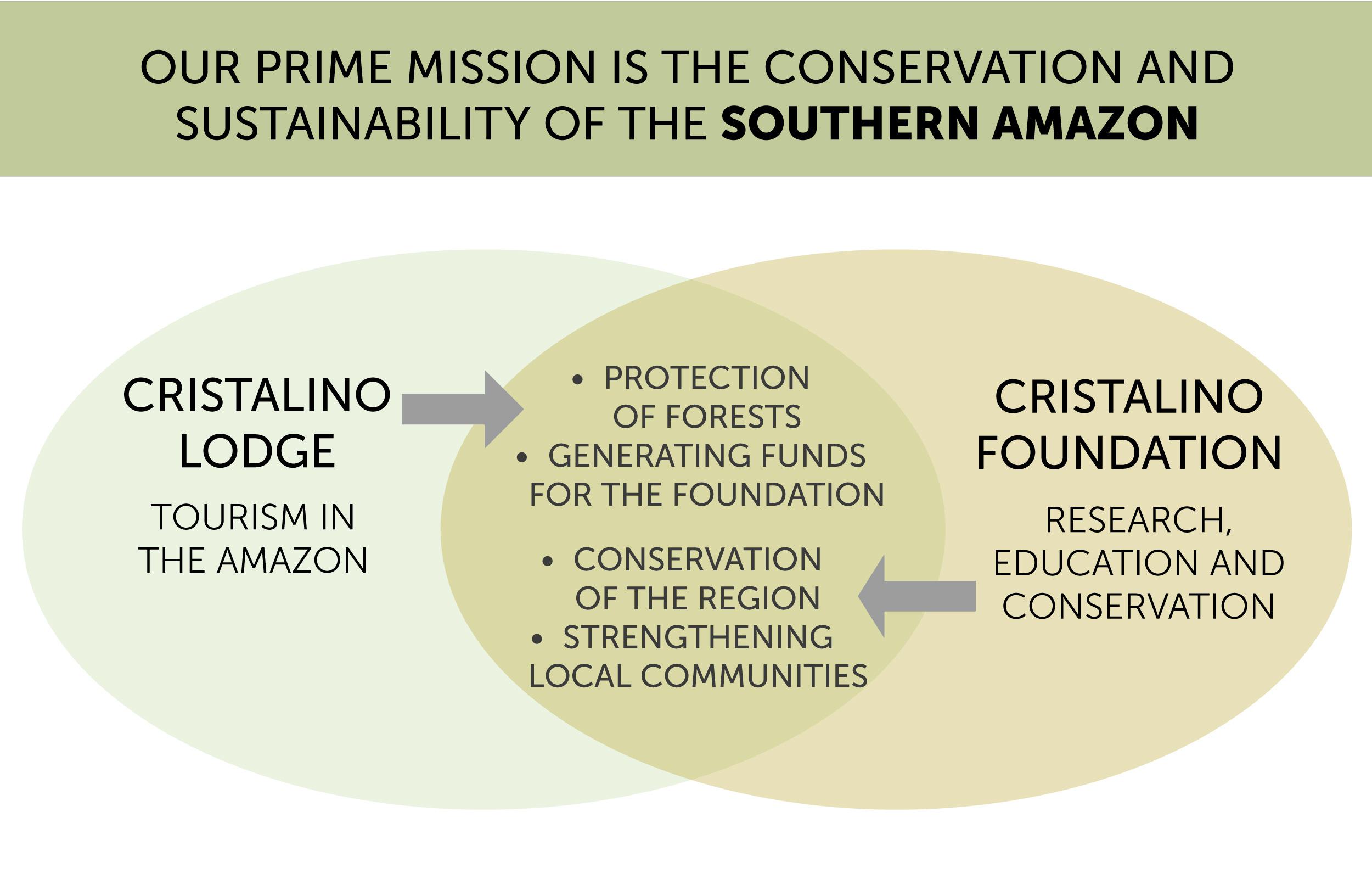 A MODEL OF RESPONSIBLE TOURISM
Our model generates considerable synergy between the activities of the Lodge and those of the Foundation. For example, scientific research carried out by the Foundation yields valuable information that our guides use in tourist activities. Here's how this model works:
CRISTALINO ECOLOGICAL FOUNDATION
The Foundation performs activities that include:
Research on dozens of topics that furthers the generation of knowledge about the Amazon.
Management, conservation and monitoring of the forest reserves where the Cristalino Lodge is located.
Environmental education activities involving local communities, under the School of the Amazon program, seeking to create a positive relationship between young people and the forest.
Promotion of sustainable development in the region.
CRISTALINO LODGE
The Lodge welcomes visitors from all around the world for responsible tourism and contributes towards:
Promotion and strengthening the economic, social and natural endowments of the area
Tourism that provides valuable experiences with the potential for individual transformation, in one of the most beautiful locations in the Amazon, with an extremely high level of biodiversity. By visiting the Cristalino Lodge, guests are contributing towards the conservation of biodiversity in this precious Amazon region.
Generating resources for the work of the Foundation.